Albatros Charters Special Cruises
Cozumel offers something for just about everyone who loves being on the water.  If you'd like to take a day off from diving or fishing, we offer a variety of special day cruises that are sure to create memories of a lifetime!  Perfect for families or celebrating special occasions…or for no occasion at all!  Spending a relaxing day with beautiful views of our island and the Caribbean is an occasion on any day!  Ask about our special unadvertised trips (we cruise to some spots on the island where most others don't go)!
Sunset Cruises
Imagine a cool beverage in your hand, a light warm wind on your face and a slow boat ride while watching the beautiful colors of a Caribbean sunset.  This occurs daily here in Cozumel. On board one of Albatros Charters Sunset Cruises, we cater to your small private group or let you join in with others.  We invite you to hop aboard for a 2 to 2.5 hour sunset cruise while our attentive staff takes care of everything.
We happily cater to small groups, friends and families.  A Sunset Cruise is a perfect complement to  your stay in Cozumel and something special that everyone can enjoy.   Whether you're just visiting, diving, fishing or even getting married, a perfect Sunset Cruise can provide lifelong memories!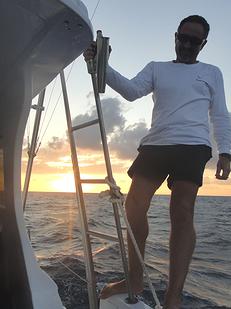 An Albatros boat can pick you up at any hotel pier if taking the boat privately. We offer a variety of beverages including our homemade margaritas, made from fresh ingredients.  Rum Punch, beer, soda and/or purified water are also available.  Want champagne or wine?  We can do that!  Snacks are also served on all cruises.
Create a wonderful experience and lasting memories for you and your entire group during your vacation in Cozumel!
Enjoy the ride, the service and of course, the sunset.  Watch the lights appear on Cozumel and the Riviera Maya coasts.  You'll have a great time!
Departure times vary depending upon season.  Cruises are of course, weather permitting.
Price per person: $50 USD
Private Price: $300/$350 USD (Min)
Unlimited drinks…Limited sunsets
Snorkel Trips
Customize your snorkel trips with the experts at Albatros Charters!  We excel at personalizing snorkel trips, which include refreshments and plenty of bottled water.  Snacks may include fresh fruit, pastries, granola bars and/or cookies   Special requests and pricing can include rum punch, beers and/or sodas as well.
Our experienced, English speaking guides lead you throughout the trip for a safe, pleasurable and memorable experience snorkeling in the beautiful, crystal, blue Caribbean waters of Cozumel.  Alone or in a group (minimum necessary), we can handle your snorkeling needs.
If you have a small group, ask us about a private charter!
​Since we customize our trips towards your needs, time frames and weather, you can enjoy the time as you choose, with people who are committed to your excursions.  Generally, we stop at 3 snorkel sites within about a 3 1/2 hour time frame and serve refreshments along the way.  We can also customize day boat/beach trips.
We love to take small groups and can do so easily and conveniently for you, whether you're staying on the island at a hotel or coming from a cruise ship.  We need a minimum of 4 people for the per person rate.  We also love to take out groups of up to 20 people.  Most people traveling with a group prefer to keep the boat just to themselves, so we can provide a private charter for your group and customize the trip to your preferences.
Do you have both divers and snorkelers in your group?  Would you like to go beyond snorkeling?  Let us know if you'd like to combine diving with snorkeling.  We will work with you for a great day out, both above and below the water!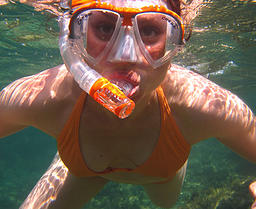 Price per person: $40 – $66 USD
Ask us about group rates or a private boat charter.
Rates vary due to group sizes and types of refreshments and drinks served (ie alcohol vs. non alcohol)
EQUIPMENT:  We supply snorkel gear at no charge to our snorkel customers.  However, if you have your own mask, snorkel and/or fins, feel free to bring them along to ensure your own comfort and fit with equipment you know.  We'll bring along the snorkel vests!
WHAT TO BRING:  Biodegradable sunscreen, towel, camera, money for tips.  If you like to wear a t-shirt while snorkeling, you might want to bring an extra dry shirt.
If you love snorkeling, have you thought about learning to scuba dive?  We're certified instructors who can offer you a 'Try Scuba' course which will allow you to dive a shallow dive.  See our Dive Training page for more information.
El Cielo Day Cruise
What's your idea of heaven?  Is it swimming in warm crystal clear turquoise water with a sandy bottom?   Here in Cozumel, heaven is called 'El Cielo'!  Spend your day soaking up the sun and scenery on a nice slow boat ride to the southern point of the island.  You'll be on a large, comfy boat with plenty of shade and an onboard bathroom.
Our crew gives you VIP service the whole way, starting with guided snorkel tour and followed by a stop at the famous 'El Cielo'.
When the boat arrives at El Cielo, you'll jump into the clearest water you've ever seen. Here you will be served our famous Margaritas, rum punch or your choice of rum or vodka cocktail, plus plenty of beer, sodas or purified water as well as some delicious snacks to munch on. Sirius satellite radio too! We think of everything to make your day heavenly!
The first class service is provided to you while you're in the water relaxing or throwing around a football.  Floats are provided and the crew will even bring you fresh drinks while you're in the water!  What a great way to spend the day in Cozumel.  Don't forget to bring your camera, especially an underwater one to get some fantastic photos!  Discover heaven in Cozumel, at El Cielo!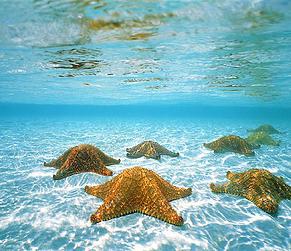 Departures times are flexible.  Albatros specializes in small groups, so advance reservations are required.  Please contact us to confirm availability.
WHAT TO BRING:  Biodegradable sunscreen, towel, hat, camera, money for tips.
Price per person: $60 USD
Ask us about private group rates.
Let Albatros Charters customize a private charter for you!
We accept all major credit cards as well as Paypal for deposits.
Please contact us for more information or to make reservations.